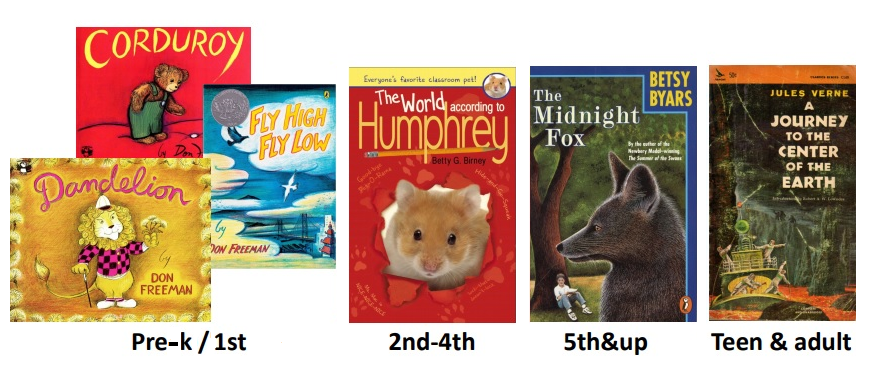 Welcome to McBride Memorial Library's Virtual and Hands-On Summer Book Club.  We are splitting summer reading into 4 suggested age groups.  You choose the age group in which you are most interested in participating.  Once you are signed up, you will receive a packet with the book and 4 weeks of hands-on projects designed to go with the book.  We will meet virtually once per week to discuss the book and show off our projects.
The suggested age groups are as follows:
Pre K through 1st grade (you will receive 3 books) Corduroy, Fly High Fly Low, and Dandelion all by Don Freeman

Grades 2-4 –The World According to Humphrey by Betty Birney (FULL! Those who register for 2-4th grade will be wait-listed)
Grades 5 and up–The Midnight Fox by Betsy Byars

Teen/Adult – Journey to the Center of the Earth by Jules Verne*
You will receive 4 packets for 4 weeks.  Each week, you will read a portion of the book, choose the packet that corresponds with the week and make the item inside your packet.  All supplies to create the item are included in the packet.*  I will email you a code and a link ahead of our google meet time so that you can log in and join the fun.  If you are unable to meet, that is alright too.  You will still have all the supplies to participate.
*Journey to the Center of the Earth kits are entirely digital and supplies will be common household items sourced by participant. There will be two separate Google meets for this book, one for teens, one for adults (exceptions will be made for families, i.e. parent and child who wish to participate together).
Here are Some Photos from Last Year's Summer Reading Kits